Before Christmas last year, we had the opportunity to host the lovely, up and coming blogger Josie @lostinsilverfern on our new cocktail tour, a Yorkshire gal living in Wellington as she simply describes herself. Even as a well travelled cocktails aficionado, she was surprised by what she experienced on the tour. Here we share parts of her (unsponsored) review in a blog that she wrote;
"Now, cocktails I can never say no to but I was very intrigued about what it would be in store on a tour like this. Having spent many summers in Europe, and taking part in the odd bar crawl, I had images of drunken teens and jelly shots. I can safely say, this is NOT what you should expect from the interesting and much more high brow cocktail tour with Odyssey."
Discovering well-kept secret bars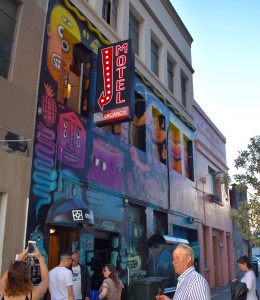 Even as a local Wellington resident, @lostinsilverfern was taken off the beaten track around Wellington city to discover some well-hidden bars that she didn't know about.
"Run by Foodie John Salter, Food and Spice Odyssey provides food, wine and cocktail tours to take you off the beaten track and discover something different about what Wellington has to offer. The tour took us through four top Wellington bars, (that I can't believe I had not yet discovered) Poquito, Motel, Crumpet and The Hanging Ditch to sample some of their best cocktails"
Meet the Mixologists and Cocktail Art
So what else happens on our cocktail tours, besides eating and drinking cocktails (of course), you ask? For many of our guests, they most enjoyed getting some facetime with the mixologists, understanding their trade and the mastery display of their cocktail creations.
"A huge highlight of this tour was that at all stops the talented mixologists spent a lot of time explaining their creations, sharing personal stories and answering questions."
 "Its not about Pinocoladas and Cosmos anymore, cocktails really are works of art!"
-end-
To read about the rest of her experience on the Wellington Cocktail Tour, check out her blog
Photos credit: @lostinsilverfern